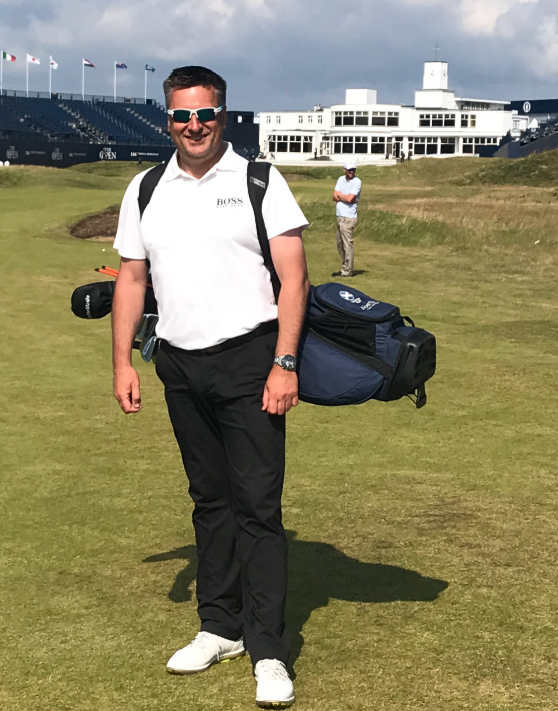 His reputation of being able to put over his ideas and demonstrate them in a simple and impressive way saw him as a natural choice to coach for the highly successful Stephen Gallacher Foundation from its launch in 2012 and he continues to support the organisation in its vision to encourage and develop young golfers in the Lothian and Borders area.
When you build a reputation like David's, the word gets round that he is able to polish existing skills with the minute detail that improves the already accomplished player. Tour professionals and elite amateurs are benefiting from David's insight and advanced coaching techniques.
His technical knowledge sees him combine his Academy and Foundation work with his freelance custom fitting at the TaylorMade Performance Centre, also at Kingsfield.

TESTIMONIALS
What the players say ...
3 times European Tour Winner - 2014 Ryder Cup player
"Founder, Stephen Gallacher Foundation -
David and I joined up in July 2018 and to the end of the year, I made 13 out of 15 cuts. We had worked together for two years in the past when I achieved 26th in the Race to Dubai and my two best finishes in Majors at the 2010 British Open and 2010 USPGA and my best finish at BMW PGA Wentworth. Well aware of his qualities, I felt he was the ideal coach, along with Jane Connachan, to lead instruction for my foundation. I'm delighted with the results he has achieved developing natural talent and kids of all ages.
Several kids under David's guidance have already progressed to playing at national level, two have won European Championships at their respective age groups, and I've no doubt over the next few years further success will be achieved. He has always believed there is no substitute for good technique, especially in young golfers. I hope that a number of the pupils he has met and now works with through the Foundation will go on to have successful careers in tournament golf. I believe David is the ideal coach for developing young talented golfers."
Robert MacIntyre - European Tour Professional
2017 Walker Cup player -
2015 Scottish Amateur Champion -
2017 Mena Tour Winner
"David was recommended to me by friends at my club who had been to see him at Kingsfield. Although I was having a very successful amateur career, I felt my game was deteriorating and needed attention. David gave me a very honest assessment of my entire game. We struck it off straight away and things moved on very quickly indeed. He has definitely pushed me onto the next level.
Since starting work with David, I've represented Great Britain and Ireland in the 2017 Walker Cup, and then turning professional and in my 2 events finished 3rd and 1st on the Mena Tour including one course record round of 9 under par. I then successfully negotiated 2nd stage European Tour School and at final stage gained full Challenge Tour privileges having only missed a full card by only 2 shots over 6 rounds.
I finished 12th in the 2018 Challenge Tour, which saw me gain my full European Tour card for 2019, and I'm looking forward to working together to progress my game even further and establish a solid first year on the full tour."
Connor Wilson
Scottish Boys Amateur Match Play Champion 2018 -
Stephen Gallacher Foundation Scottish Boys Stroke Play Champion 2018
"David has been coaching me since I was 11 years old and playing off a handicap of 16.
I'm now playing off a handicap of +2, Scottish Boys Amateur Match Play Champion and Stephen Gallacher Foundation Scottish Boys Stroke Play Champion, both in 2018.
I am delighted with all technical aspects of my game.
Without David this wouldn't have been possible and he is the one who has made me the golfer I am today. Hopefully this is just the start of a long and successful journey together!"
Craig MacLachlan
Owner, Castle Park Golf Club
"
Quite simply the best golf coach in the country and my number one choice to head up coaching when I took over ownership of the club.
His breadth of knowledge, skills and ability to coach all levels from beginner to Tour professional is fantastic. He also has professionalism and integrity to match.
The only coach I would use for my family (Connor and his sister Annie) and the one I recommend to all of our members.
"
Stephen Easingwood
Dunbar Golf Club, Ex Scottish Amateur Champion
"
I've known David since junior golf events and coaching in our early teens. He was a very talented golfer with a good eye for technique and a real passion to succeed so it was no surprise when he became a top coach.
I represented Scotland at all levels throughout the 1980s, winning, amongst other notable events, the Scottish Open Amateur Championship and Scottish Amateur Order of Merit in 1988. I was named as Walker Cup reserve in 1989.
Although I still played to a Cat 1 standard thereafter I drifted out of top level competitive golf. By my mid to late 40s my golf had stagnated with my technique stuck in the coaching of yesteryear. I enlisted David's help and we started working to modernise and re-energise my whole golf game with outstanding results.
In 2015 I unbelievably won the prestigious 36 hole Edward Trophy at Glasgow Gailes aged 49, 28 years after I first won it! I also got my handicap back to plus 2 and still retain this at aged 52. This wouldn't have been possible without David's expertise, modern technical knowledge and ongoing input.
I have been coached by many top instructors including John Jacobs and Bob Torrance but David surpasses them all with his modern coaching methods, embracing new technologies while still delivering instruction in a clear and user friendly way rather than getting too technical. I have spoken to many golfers of wide ranging ability levels who enthuse about David's methods and results.
In recent times I have also seen first hand, the results of David's coaching of the youngsters within the Stephen Gallacher Foundation. The quality of technique on display in these young golfers is remarkable and worlds apart from 'back in the day'.
"
Ruben Lindsay, Ayr Belleisle Golf Club
"
David has been coaching me since I was 8 years old and part of the Stephen Gallacher Foundation.
Together we have developed my swing from an early age and now it feels reliable and consistent. Already I have achieved many great things at junior level, ultimately achieving my main goal, of becoming 2017 European Champion, age 13, now playing off a handicap of 1.
With the use of Trackman and video analysis, his support has given me an excellent understanding of the golf swing which will benefit me for many years to come. David is straight talking and thorough, explains things in simple terms and from my own perspective. I always look forward to our coaching sessions and after he tells me what to work on I am always motivated to work hard developing my swing.
David has an excellent eye for detail and spotting the source of any faults and quickly helps get things back on track. W
e have developed an excellent working relationship with mutual respect, fun and relaxed sessions. I look forward to working with David and taking my game to the next level.
"
Mathew Bacon -
PGA Professional
"
I had a successful start to my golfing career but didn't progress as I hoped between 16 and 18 yrs old. I had heard of David through his work with coaching Stephen Gallacher and decided to get in touch. I immediately liked his views and ideas and have worked with David for several years now, commuting regularly from Norwich.
I have completed my PGA qualification with David's guidance. My ambition is to be a Tour player and hopefully David's knowledge and experience can help me get there. He has improved all aspects of my play.
"
Ross Hendry - Turnhouse Golf Club
"
My son Andrew (aged 12) started to play golf at the age of 6. He always honed a natural golf swing but after being introduced to David Burns via the Stephen Gallacher Foundation in early 2014, Andrew has excelled!
Aged 9, Andrew's first national (Men's) handicap was 19 and by the summer of 2017 (aged 12) it was down to 5!
Andrew was Oceanico World Kids Championship in 2015 and 2017 (under 10 and under 12) and runner up in 2014 (under 9). He has won a host of local events and is also a regular participant in the US Kids European Championships. He has been junior champion at his nearby club, Turnhouse, in 2016 & 2017 aged 11 and 12 respectively.
David has laid sound foundations into all aspects of Andrew's golf a techincally superb coach his attention to detail shows in Andrew's now immaculate swing. David has an infectious personality and is an outstanding golf coach.
"
Ross Mallon - Greenburn Golf Club
"
I had my first lesson with David several years ago when I was 14 years of age and playing off 14 handicap.
Since then we have we have been working relentlessly to improve all aspects of my game.
I now play off 1 and achieved my dream of winning my Club Championship in 2015 and successfully defended the following year.
I have also recently been chosen to represent both West Lothian and the Lothians. I definitely owe David so much for taking my game to this level and hope we can continue to work together and improve further.
"
Musa Kurdi -
Father of Shergo Kurdi
"
We met David at a tournament when Shergo was only 9 years old and after watching Shergo play and a brief discussion afterwards, we arranged a session with David the following day. We were immediately extremely impressed by his knowedge, thoughts and characteristics of his teaching and my son and David quickly formed a very special relationship. Shergo had already won dozens of competitions for his age group and above, but David has improved his technique and will continue to work on all aspects of his game.
Shergo is now 14 years old and plays off a plus handicap. He has been invited to play in pro-ams for European Tour events, and performed very admirably on the 2017 Mena Tour and his full European Tour debut in the 2018 Qatar Masters.
Shergo and David are totally dedicated to making Shergo the best possible player he can be.
"